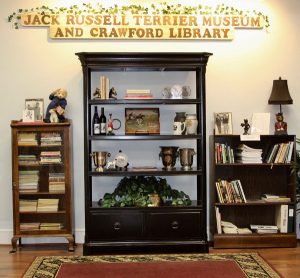 We are very busy this Spring and looking forward to a good year for the Museum. Fundraising is our major effort this year. We got a bit behind last year as activities were so restricted.
Our annual Museum Benefit Trial is planned for June 12 & 13th in Littlestown, PA. It is a great trial site and there will plenty for every terrier to do! Please join us! If you are unable to attend, please sponsor a class. The funds from this Benefit Trial cover a significant portion of the operating expenses required annually to keep the Museum going.
The big project this year is an all-out effort to raise funds for the Homestead Project. If you are not familiar with this project, please keep following our efforts – we will keep you updated as we progress. Finding a permanent location for the Museum and the JRTCA is extremely important – and can ensure that these organizations will be able to continue to preserve and protect the TRUE Jack Russell Terrier for many years to come. The Homestead will make the Museum to be more accessible, promote educational days, put more training in place available to all, help with Rescue, and so much more. It will be self-funding and will be "home" to all true Jack Russell lovers.
We are researching any and all fundraising options to make the funds grow quickly so that this can become a reality sooner than later. This is a joint project with the JRTCA. So far the JRTCA and the Museum have collected approximately $15,000. That may seem a long way from our goal – we need about $200,000 to buy a large enough property – but it is a great start.
There are many fundraising projects being planned – a photo contest will be up on the website soon. Raffles and silent auctions, bingo nights, fun days, bull roasts or similar events, are all good options that can be done in your local areas – please see what you can do to help. If people all around the country help in this fundraising effort it will grow fast!
Some of the educational projects for the Museum & Library that are underway are videos for all Jack Russell activities, history as it has progressed since the early Fox Terrier days, more books for the library, documenting and preserving the many magazine/newspaper articles from over the years and more. A major goal is a traveling Museum/Library that would consist of a large trailer equipped with key items that could be hauled around the country to educate the general public on our terrier.
We hope to find grants that will assist with some of this – particularly the traveling Museum/Library. All of this of course will be a large effort, both financially and administratively. If you would like to help with any of this, please step forward – we welcome all who would like to participate!
Call any Board member, or the office at 410-560-9958.