June 24th & 25th 2023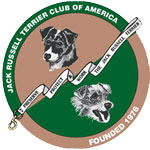 Sanctioned by The Jack Russell Terrier Club of America
Exhibitors must be current members of the JRTCA to enter sanctioned events.
Trial Location
Littlestown Fraternal Order of Eagles
427 Mengus Mill Rd.
Littlestown, PA 17340
Flyers/Entry Forms
Trial Conformation Judges
Saturday:  Sandra Ferber
Sunday: Linda Cowasjee
Trial Administrator
Saturday Trial Chairperson: Joan Crouse
Sunday Trail Chairperson: Wayne May
410-560-9958
office@jackrussellterriermuseum.com
Trial Events
Conformation
Go-To-Ground
Racinghttps://www.jackrussellterriermuseum.com/
Super Earth
Trailing & Locating
Brush Hunt
Thunder Tunnel
Lure Coursing
Ball Toss
Youth
Rally (New)
Jumpers & Agility Games (New)
There are conformation classes for Junior Terriers (12-24 months).
There is a conformation class for colored terriers, class #71.
RV Parking $20 /night. No hookups.
Lunch is available on site.
Saturday night dinner – details in the Trial Flyer.